A beautiful work of art can liven up a space and water colors paintings are popular for their fluidity and fresh colors. Water color paintings can be quirky, colorful and perfect as statement pieces. And now you can bring water color art on your wallpapers to create awe inspiring wall decor for home! Here are a few fun ways to incorporate these water color wallpapers in your rooms to create wall décor that mesmerizes.
Welcome to our world
Flowers are traditionally offered to guests when they visit and what is better than welcoming them to your home with beautiful floral wallpaper in your living room. You can transform your home with these great watercolor wall decorating ideas for living rooms and choose to have lovely lotus leaves wallpaper or tropical flowers wallpaper and put up some pretty lights either in fairy lights or an overhead light to brighten up the living space.
If you have an ethnic theme for your wall décor for home, with Indian handicrafts to accompany, you can choose the Ethnic watercolor design which uses traditional motifs with modern colors to create a subtle work of art.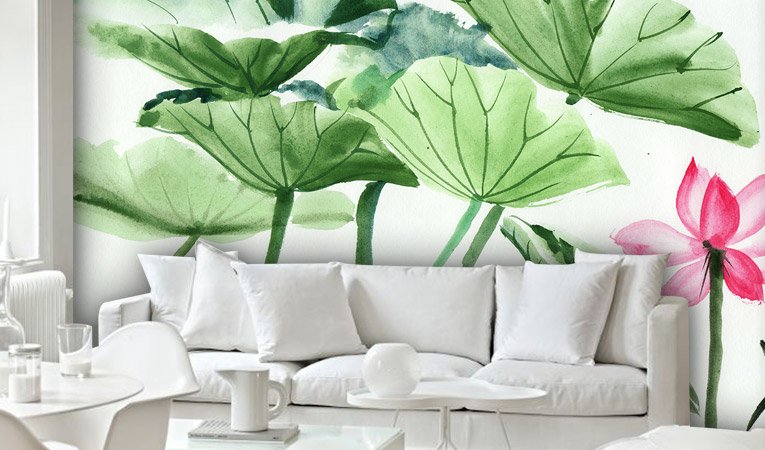 A dash of color in the kid's bedroom
Colors stimulate the brain in a multitude of ways and a vibrant piece of art will inspire creativity in your child. Try these watercolor wall decor ideas for your child's bedroom to inspire them. You can choose a pretty painted flowers wallpaper for your kid's bedroom, these colorful flowers are loved by toddlers as well as older kids especially girls. Or you can even decorate the room with flouncy pink flamingos and flamboyant hummingbirds in the tropical bird's wallpaper which is bound to spark the curiosity and create a cheerful atmosphere.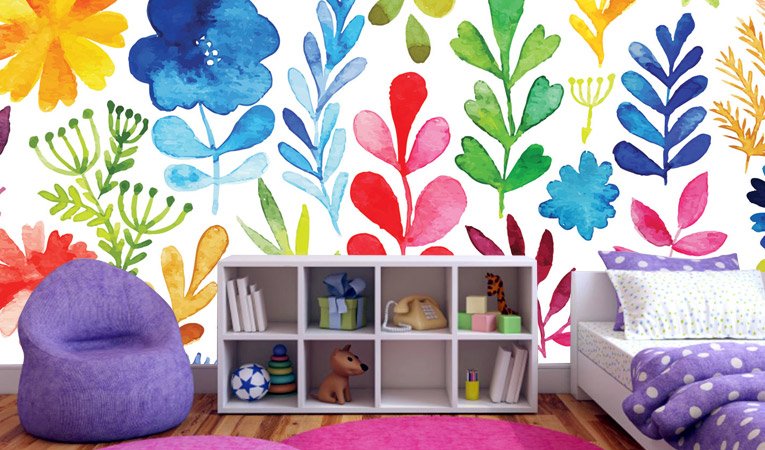 Around the world in the study
A study room or home office is a place of serious contemplation and work; it is crucial to keep the space lively with some interesting wall décor ideas and this wallpaper of a watercolor world map will do just that! You can just sit there and take a break to day dream about all the beautiful locations you want to visit, you can personalize the map by putting up a few photographs of all the places you have visited or want to visit! If you are in love with Paris or London then get the city wallpapers to transport to another world.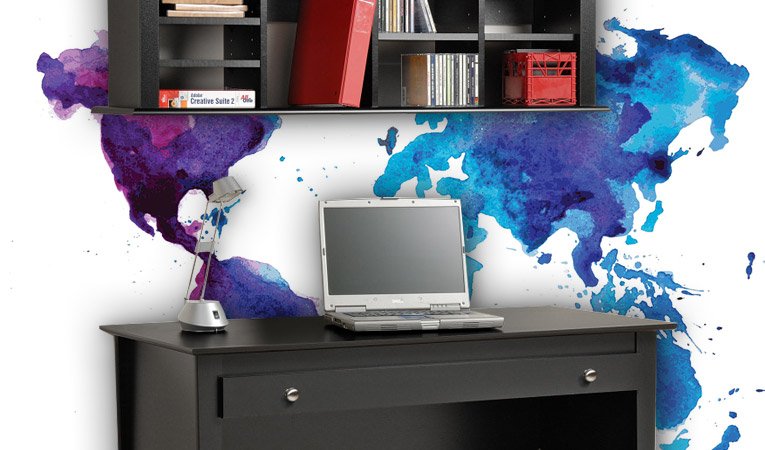 Keep calm in the bedroom
Blues and greens are known to be calm and soothing colors and perfect for your bedroom. In today's busy and connected world, all you need at the end of the day is to switch off from everything and relax. You can bring in these colors in your bedroom by using a surreal watercolor wallpaper which will instantly calm you down, add some subdued concealed lighting to the room and it can get very cozy to become beautiful wall decor for home . If you want to keep it simple and yet pleasurable use the blue and green watercolor wallpapers, you could simply put up an indoor plant near the wall to give it a fresh look.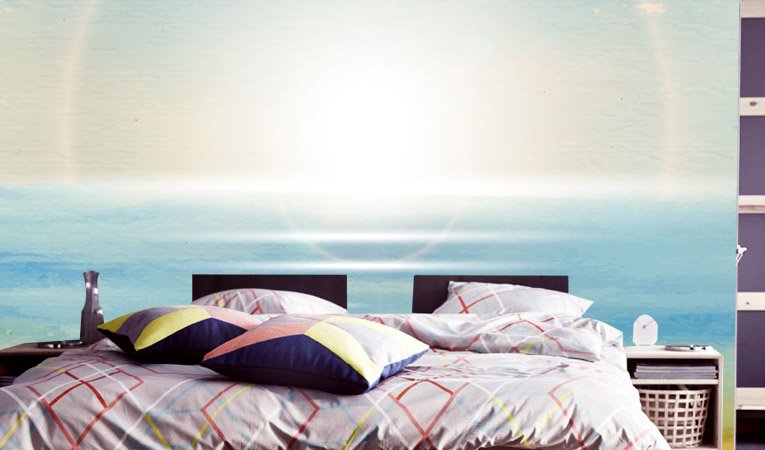 For any query, please call us on +91-98110-31749 or e-mail info@printawallpaper.com
Order a Wallpaper