Drab kitchen, boring livingroom and dull bedrooms – is that the story of your life? Well, with a few tweaks and techniques, you too can transform your rooms into expansive and inviting space and add strokes of brightness to your lives. And to make this magic happen, you don't really have to pay through your nose. Our exclusive wallpaper design printing for urban walls is practical, innovative and trending right now. Here are a few coolest creatives and room decor ideas to make you feel truly house-proud.
Living Room
If you like high-octane glamour, don't shy away from using 3D wallcoverings wallpaper for walls. These embossed beauties add depth and intrigue to the room, besides creating an illusionary effect. The looks that you can lend to your room are innumerable – there are infinite swirls, mystical arches, fascinating curves and many more futuristic designs that will produce an eye-catching spectacle. These hologram wallpapers for living rooms are not only captivating but also present gorgeous three-dimensional structures that are the latest in wall dressing.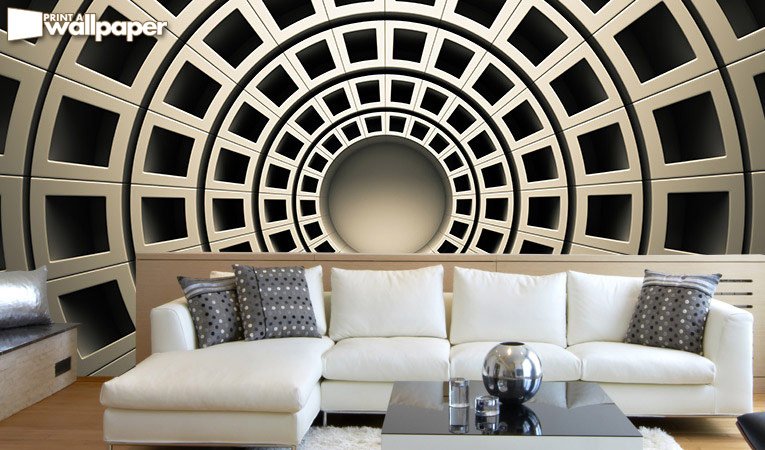 Order Custom Wallpaper
Bedroom
Fill your bedroom with the fragrance of love using breathtaking closeups of roses and tulips from the floral wallpaper section. These designs are contemporary and bring in freshness and hints of romance to this special room. If flowers are not your thing, then you can opt from the oceans and beaches wallpaper designs in the background. After a hard day's work, you too can feel the comfort of luxury resort-like living. Imagine aqua blue waters, palm trees and floating islands right in your bedroom. And yes, we have enough wallpaper designs for bedrooms to keep those sparks flying!
Dining Room
If you love to present your food like a chef, then you may want to try these delicious wallpaper prints to make your mealtimes happier. Food art on walls like the Slice of Italy, fast food graffiti, spices or the food platters, not only looks fresh, but very appetizing too. A burst of citrusy shades and tantalizing pattern wallpapers add a fresh twist to this space. If you like it a bit formal, then you can even try the never boring geometrics wallpapers to spice up your walls.
Order Custom Wallpaper
Study Room
Creating the right atmosphere and spreading positive vibes is the key to do up this sanctum space. Bring in the calmness with Zen wallpapers for home. Choosing these softer, soothing prints will not only help you gather your thoughts, but also give you a sense of purpose and direction. 
Kids Room
Animal kingdoms, cartoon wallpapers for home, space astronaut wallpaper or simple stripes and polka dot designs – the choice of wallpaper designs for kids rooms is enormous here. Children love to submerge themselves in their fantasy world that feeds their wildest imaginations. The wildlife themed wallpapers are also attractive, educational and add lot of interest to the walls.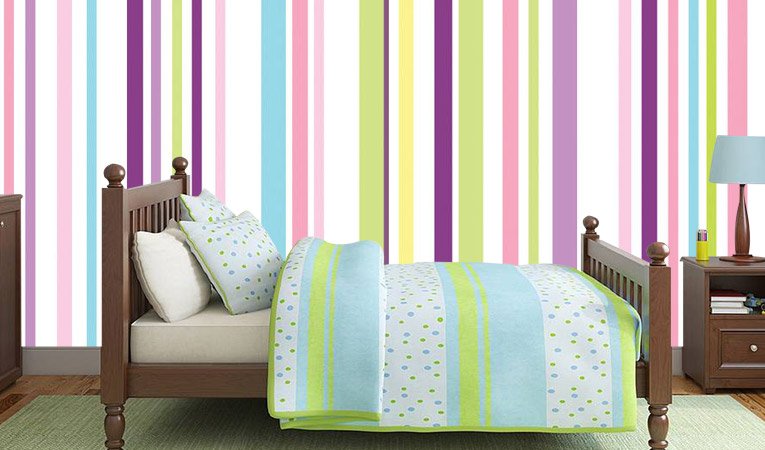 Worship / Religious Room 
From Krishna, to Christ, Buddha, to Om, Mecca and the Golden Temple, you will definitely get a wallpaper art for your faith. Religious wallpaper designs are not only an extension of your personality and mood, but give you ample hope and courage. If you like to follow the middle path, just brighten up this room with the serene scenic beauties like waterfall and palm trees prints taken from the nature wallpapers category. 
Order Custom Wallpaper
For more information please call +91-9811031749 or email info@printawallpaper.com