A wedding marks the beginning of a new phase in life, marriage; it is full of dreams and hopes. This is physically embodied in a new home with a space to call your own, to fill it with memories. Every young couple goes through wondering how to decorate their first home. The planning begins by thinking of all the décor ideas for home after marriage which will make their home comfortable and beautiful. Here are a few décor ideas for the house wife in you –
Romantic Bedroom – The first room that gets the attention of every newly married couple is the bedroom! You will want to have a romantic décor for bedroom that will keep the magic alive. One of the best décor ideas for home after marriage is to get a beautiful wallpaper in the bedroom which has calming colors like blues and greens, like the "Life is a beach" wallpaper. It will make you feel like you are still on your honeymoon! You can hang your framed wedding photographs in the bedroom to bring a personal touch.

Party Living room – You are a young couple who will want to entertain, your guests will love your decor ideas for home after marriage when you use this mesmerizing "Frisco Bay" wallpaper. The groovy design will go well with your personality and create a perfect décor for first home.

If you are the more sober couple and as a house wife looking for décor ideas for first time then you can look at ethnic prints or textures to create a beautiful decor for living room.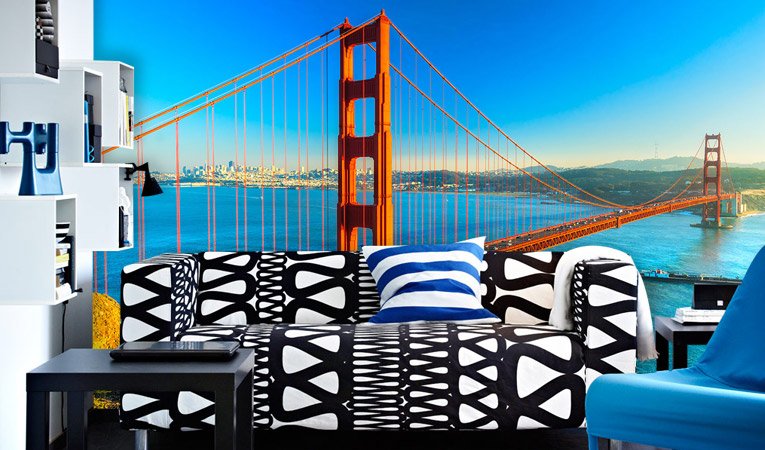 First Kitchen – A women wants a perfect kitchen for her new home especially if it's a first home. If you are looking for a bright kitchen décor idea for home after marriage then think no further than"Spices" wallpaper. The colorful spices will spice up your cooking and marriage too!

However, if that is too bright and you want to have a clean kitchen then try a white wallpaper with motifs of citrus fruits, it is a pretty décor idea for house wife who spends a lot of time whipping up great meals for her husband!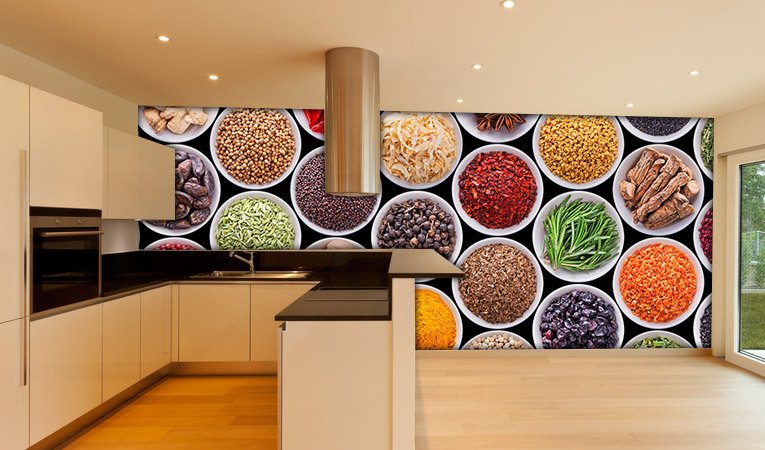 Guest Room – As a young couple you will have your parents or friends visit you and a comfortable guest room décor is what you should plan. You can use a pretty "Tulips On Green" wallpaper to make them feel welcome and applaud your décor ideas as housewife!  Another décor idea for first home guest room is to furnish it comfortably with bedspreads and pillows.

It is a good idea to spend time in finding handicrafts maybe you can buy something on your honeymoon, and you will have a décor idea for home after marriage that will personalize your home. The right furniture will also complement your décor for first home and make you want to come back home to a beautiful space. Apart from these décor ideas fill up your home with a lot of love and passion for a wonderful home and life!