Romantic reds or cosy corals, pretty patterns or mushy murals – decorating your love nest can be a tad easier if you pick the right wallpaper for your bedroom. In fact, Feng Shui experts suggest that your room's design can greatly influence your marital life, balance Ying Yang energies, make way for new opportunities and even attract love. So, here we present a roundup of wow-worthy ideas of wall designs for bedroom that will make you fall in love all over again.
Colour Code
Wake up a boring bedroom with a pop of scarlet, fuchsia, salmon berry, lavender other brilliant colours that lend a warm glow to the room. For that extra spice and sensual kick, choose deep aubergine and tangerine. The right colours for the wall designs for bedroom can make or break the mood and hence it's important to set the tone right.
The right imagery
For a balanced flow of love and energy, choose some sensual, romantic or relaxing art for your bedroom. The freshness of a rose print or the calmness of a Zen-inspired wallpaper can have a balmy effect on frayed nerves. The right imagery or graphics will bring stability in relationships and revitalize commitments.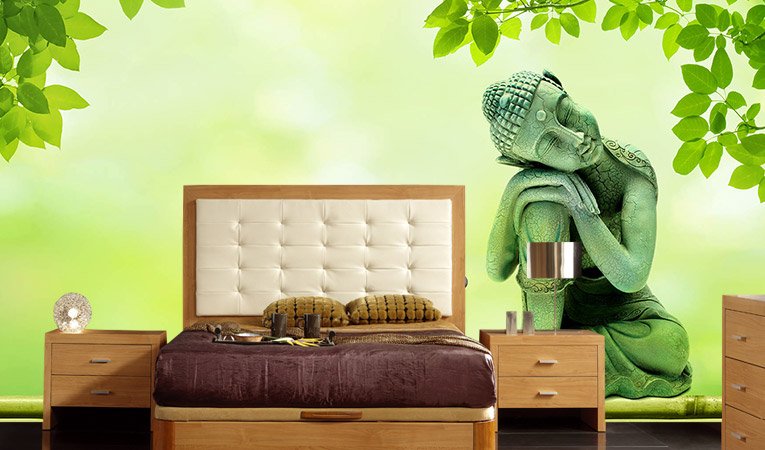 Hollywood glamour
Do you fancy crystals, satin sheets, glossy finish, shaggy rugs and lustrous bedding? Well, the hottest trend this is year is to enhance all things beautiful in your room with a little shimmer and shine. You can dress up your walls with metallic and burnished tones like bold gold and stunning silver that will just take the whole glam look a few notches up.
Feel it up
Give a little warmth and character to your room with textured designs for bedroom. A layer of touch-me, feel-me art like the orange fabric lines, sandy waves or the basket weave background can help you define your comfort zone. It's ideal for couples who like a contemporary twist to the traditional setting. This soft decorative addition will be definitely big this year.
Serene Green
To lessen the summery intensity and balance out the dark elements in your room, subtle shades of green not only feel fresh and clean, but elevates the mood instantly. Try the grass texture, flying weeds in green and other fern shades for a soul-satisfying garden-esque living.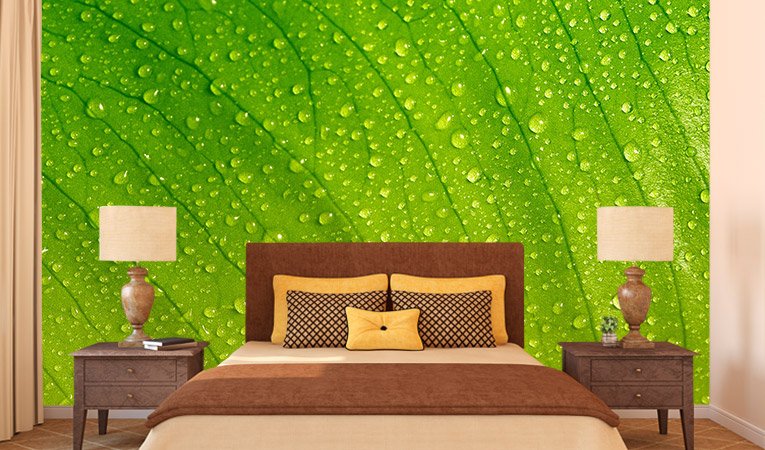 Personalize your space
Among many decor ideas, the one high on-trend is to get an artwork customized by using an image of your choice. A photographic memory, love notes, inspiring pictures or any other design that you like can be digitized on a large-sized canvas for an instant room makeover.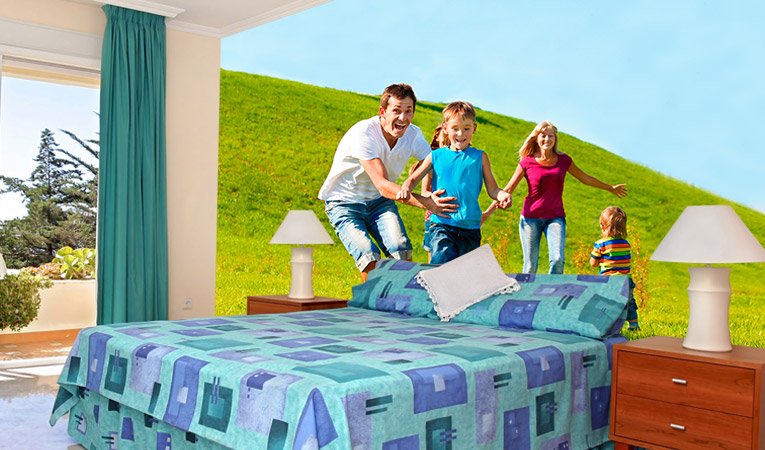 Statement geometrics
If mush is not your cuppa, then you can draw inspiration from bold geometrics that give an edgy, sleek look and make for great designs for bedroom. If you are single, you may look at wacky prints and wildlife designs that will add a cool sophistication to your living environment.
For more interior decoration ideas, follow our blog.