If you are looking for some colourful home decoration ideas for your home, you need to look no further. We bring to you our top 5 home decoration ideas that you are absolutely going to love! In this blog we will talk about how hues and accents can bring a huge difference to your interiors. These ideas are sure to bring new life to your home with their colour, cheer and boldness.
Neutral against Bold Prints
Pic Courtesy: anonymous
Pairing soft neutrals with bold prints is a winning combo for people who are looking to balance the whole room in terms of colour. Use lots of vintage plates as wall decor and make your home a stylish one. Bright flowers compliment a neutral sofa and curtains very well. Use this combo and make your living room a warm place to host a tête-à-tête with your loved ones.
Patchwork Tiles
Pic Courtesy: granitetransformations.com
Enjoy a stylish space in your home with some colourful tiles with random designs on each. These stylish tiles can be used in kitchens or sitting areas to bring an interesting vibe. Choose interesting patterns that give a Bohemian chic look to your home.
More Decor Ideas
Eclectic Interiors
Pic Courtesy: apartmenttherapy.com
The new age brigade that loves diverse decor, could add big framed wall art or abstract paintings to their décor. To create drama, add lots of framed art to the backdrop of a dark shaded wall. Another way to incorporate this home decoration idea in your home is to use wall murals like abstract wallpapers instead of wall art.   
Black and White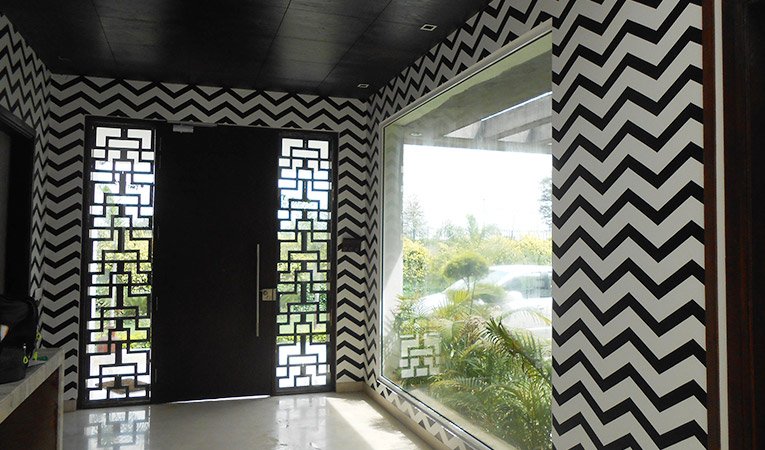 A black and white theme can be used in a very interesting way to make a particular colour pop out. A very stylish way to showcase your bold side, it is not a very conventional decor option but when used, can make your décor stand out and look quirky. Choose from a host of black and white wall ideas available with us and pair it with bright wall art to accentuate the wall. Rest assured it is going to be the envy of your friends.
Brick Wall

A hot trend these days, a brick wall design can really help accentuate colourful home decor by adding warmth to the room. Blending beautifully with colourful interiors, a brick wall mural can help bring in character and boost your décor further. It is so versatile, that it not only suits vintage colourful home décor as shown in the picture but also neutral themed home décor as shown below: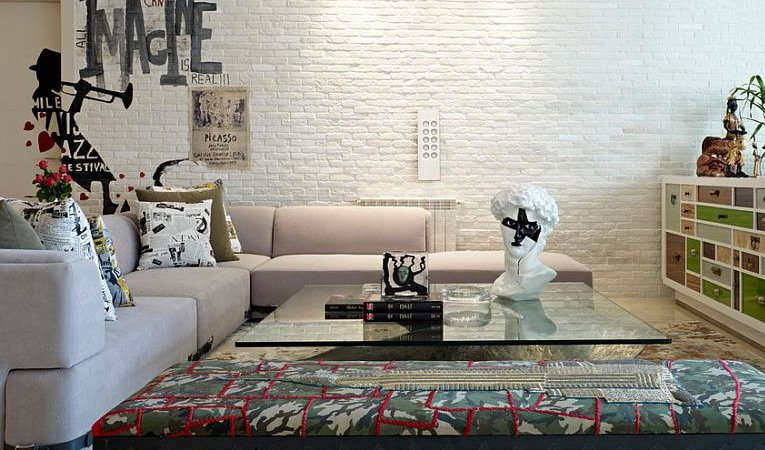 Pic Courtesy: decoist.com
Hope our home decoration ideas help you bring in colour to your home. Share your ideas and design inspirations by commenting below.
More Decor Ideas
To place an order please call us on +919811031749 or e-mail info@printawallpaper.com