"Spirituality cannot be defined, but can be described as a journey to the centre of the soul" – Unknown
Human beings have always been in search of peace since the beginning of time, they engage in spiritual and religious activities to find themselves and their inner peace. Today, the lifestyle is so hectic that people find peace within the confines of their home. Usually people have a sanctum where they pray peacefully to a god or a figure of their choice for prosperity of the home and family, sometimes this is a puja room or a prayer room. You can bring in a spiritual element to your home with these spiritual room ideas for homes.
Decor for Puja Room
The Puja room needs to be well lit and airy; you can make sure to keep the lights and lamps on through the day to create a calm ambience. Make sure that you use fragrances like incense sticks or even potpourri to create a beautiful scent as a part of your spiritual room ideas for home.
Most people love to pray to Krishna and Ganesha, and you can have wallpapers with their images that will instantly bring a peaceful look to your spiritual room décor. If you are not keen on having god images, you can have this simple lotus hand design which will create a perfect backdrop for your puja room.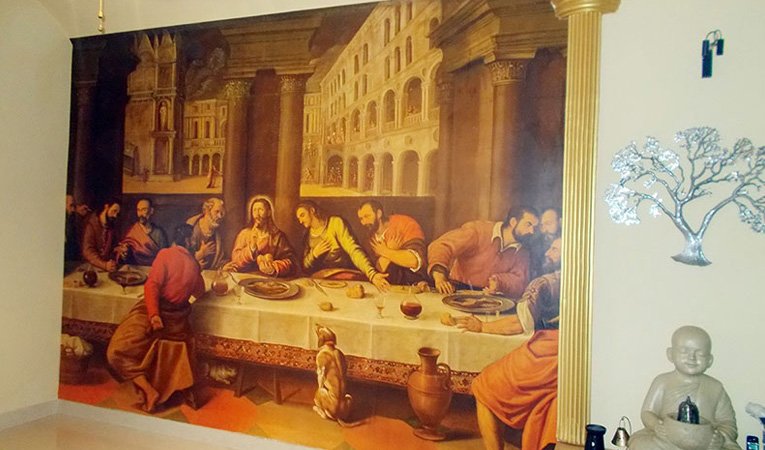 Christian spiritual room decor ideas
Many devotees love to have an idol of Jesus Christ at home to serve as a reminder of the great Lord. You can create a beautiful space for the idol in your prayer room and backlit it with some lights. This backlight will create a great ambience. In case you do not want an idol but want to embrace the presence of Jesus Christ in your spiritual room ideas for décor you can install any of these Jesus Christ wallpapers which will remind you of the divine presence in your lives. 
During Christmas, you can go overboard with fantastic décor ideas such as Christmas trees, Christmas star lights and wreaths. They will provide color and much needed light to your spiritual room ideas decor.
Islamic spiritual room idea
Prayer is an important element of Islam and a prayer room in the house is dedicated for this purpose. This needs to be a clean and pristine area where you can dutifully perform your prayers at peace. As every devotee turns towards the kabah during prayers, you can include a magnificent photograph of the Kabah itself in your prayer room to direct your energies. This exquisite photograph of Kabah at Mecca will energize you and is the best spiritual décor idea for your home. 
Spiritual decor ideas for Sikhs
The Guru Granth Sahib Ji is of primary importance for Sikhs however since it involves a lot of seva not many devotees have Guru Granth Sahib Ji at home. Although, you would love to be reminded of your culture and heritage and these Golden Temple wallpapers can help you reminisce about the glory of your sikh culture. You can have these photographs even in your living room where your guests will also appreciate the magnificence of your heritage as well as it adds to the beauty of your spiritual room ideas for your home.
Buddhist spiritual decor ideas
Buddha advocated simplicity in life and as his follower you can include minimalist and simple décor ideas to create a beautiful spiritual room décor. Apart from having Buddha idols, you can also have Buddha wallpapers in your living room and prayer room, these magnetic images of the Buddha will inspire you to be spiritual and lead life in his footsteps.