Oriental or Asian style of decor is evergreen in the design world; this style of interiors brings a sense of calm and tranquility to your home. In this fast paced world, to come home to a peaceful space is what everyone wishes for! The oriental décor focuses on harmony and balance, in textures and colors as well as includes important elements of nature to create the perfect home atmosphere of peace and calm. You can create an oriental decor with these oriental design ideas for wall and interiors –
Create a splendid oriental design backdrop
Oriental designs use nature as an inspiration, the colors and the motifs are borrowed from nature and hence are sublime and elegant. It is best to use subtle colors like white, cream, or even lighter shades of blue and grey. You can use a wall paper which will complement your oriental design ideas like solid or pastel colors, like grey, blue and white. 
Splash of color in the room for oriental design
Oriental design generally draws from nature and what is nature without the bright flowers and brilliant hues of the rainbow! While the Japanese style is more understated, Chinese design ideas are more vibrant and use bright reds, brilliant pinks and luxurious purples. You can use these colors on one wall in your room which will complement your overall oriental design. Red is an auspicious color in the Chinese culture and it can be easily incorporated in your oriental design ideas for wall. 
Balance of colors and textures vital to oriental design
Nature is filled with different textures and this is reflected in the oriental design style. Sense of balance is considered integral in the culture and hence lots of textures are used in the oriental design. You can counterbalance the solid concrete with the light weight bamboo, the stability of stone with the natural wood for great oriental design ideas for wall. It is also a good idea to have smooth river stones, bamboo blinds and stone sculptures to highlight the oriental décor.
Lighting and sculptures bring out the oriental design
Oriental design is subtle and hence it needs the drama added through light. Strategically placed lamps and lights can enhance the look of the room. Overhead chandeliers with unique designs can be used as well as you can incorporate light in an oriental design for wall by using wallpapers. This striking wallpaper of Neutral Marble Buddha plays with light beautifully without any external lighting and adds to your oriental decor.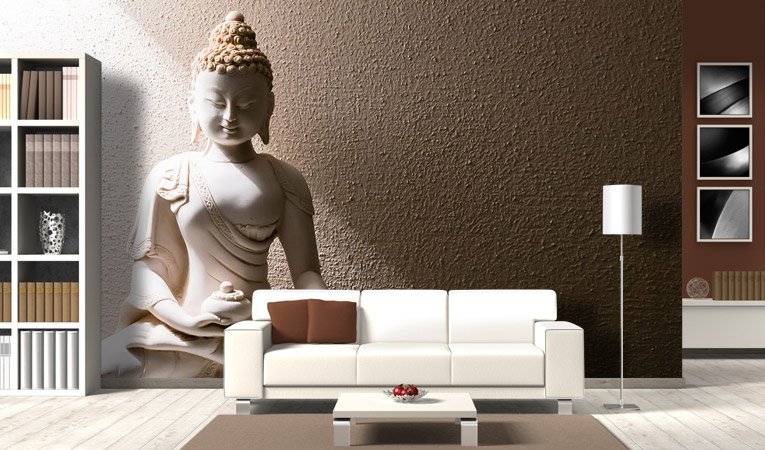 You can also paper sculptures in your room in the form of paper lanterns or paper wall designs as paper is considered an important aspect of Chinese and Japanese cultures. You could also add an element of paper with this pretty Chinese fan which will complete your oriental design for wall.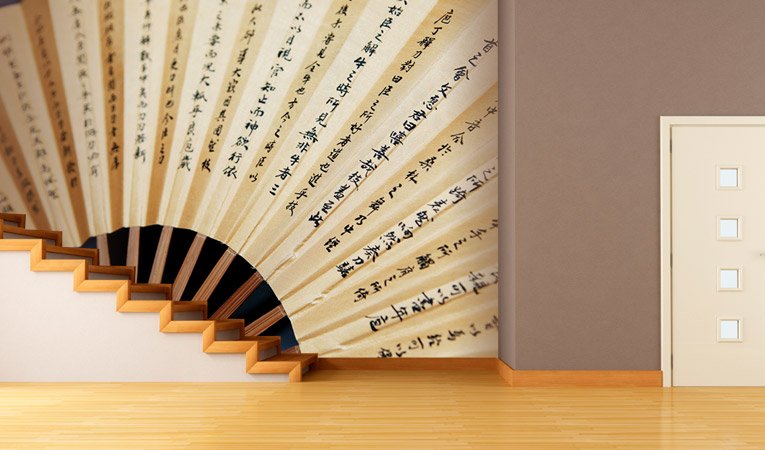 Oriental design and décor artifacts
Every culture has some knick knacks and elements that indicate their origin and have a story behind them. Oriental design has some elements bamboo plants, Buddha statues, paper fans, cloth scrolls with calligraphy that you can use to create an oriental décor.