One of the first things that you are introduced as a child is to the jungle and its animals. You read about them in picture books and sing songs about them, quite a many of you take forward this love for the jungle even in adulthood. A jungle theme décor home is meant for folks like you who want to bring the jungle home! Here are some décor ideas for home which use jungle theme ideas for home –
It's time for Africa- Africa is the ultimate jungle destination, home to the Big Five; it is where the land throbs with wildlife. This "African Landscape" wallpaper will complete your jungle theme décor home. The silhouetted landscape is suitable for your living room and works well as a jungle theme idea for home.
To take this theme further you can use the décor idea for home of using African wooden masks which can be put up on the wall. You can also use tribal art which can be framed or used as drapery and furnishings.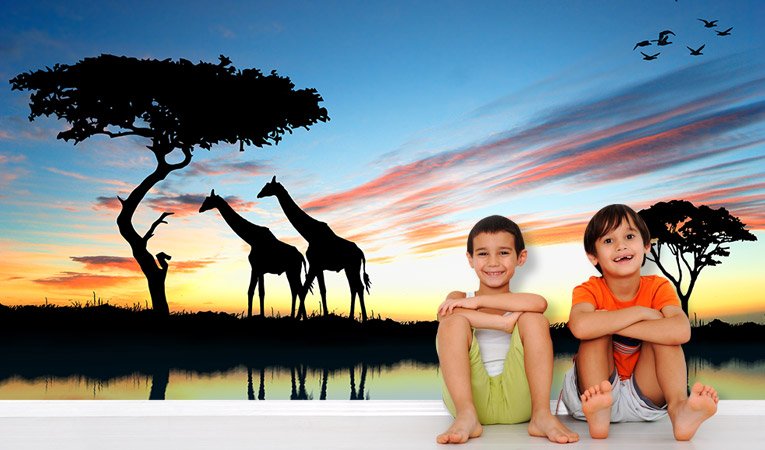 Time for a jungle meal – A family that eats together stays together! It is with this thought that you need to make your dining room a lively place where the family looks forward to eat and you can use the jungle theme décor for home here. You can use the "Exotic Macaws" wallpaper which is a appropriate jungle theme idea for your home.
Among several décor ideas for home, you can try using wind chimes made of bamboo; the subtle sounds will create the ideal atmosphere for your jungle home.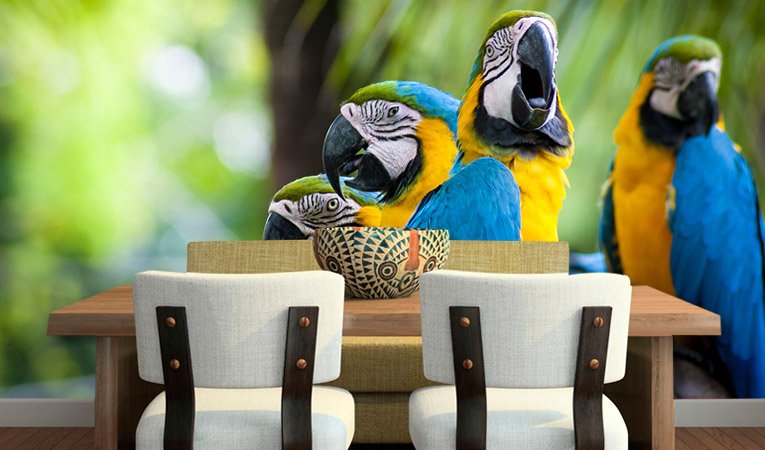 Kids love the jungle- Children are most excited when it comes to animals, toddlers love to sight them while older kids love their behavior. Today when you have to go to zoos to sight animals, it's a superb idea to include this "Jungle Portrait" wallpaper as a jungle theme décor for home. The cute animals will keep your child occupied and even start naming them!
Stuffed toys are an integral part of décor ideas for homes with kids and you can get several wildlife toys for children which can be displayed. Another jungle theme idea for home is to get colorful jungle theme bed sheets and pillow covers which will complement your theme.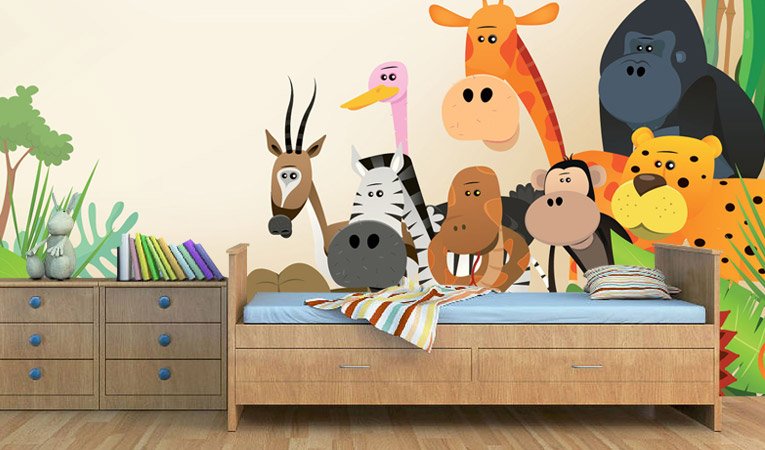 Come home to rest- Just like the birds come back to their nest to roost, so do humans at the end of the working day. Home is where relaxation is and bedroom is where most of it happens. You can have an entire wall dedicated to this relaxing "Birds Soaring" wall paper which is excellent for jungle theme decor for home.
Your jungle theme ideas for home should include the right colors as bedrooms need subtle colors nothing like reds and oranges which always keep the brain active! One of the décor ideas for home is to install subdued lighting which can be changed according to mood. You get wonderful lamps nowadays which look stunning and complete the décor for your home.
For any query, please call us on +91-98110-31749 or e-mail info@printawallpaper.com