Teenage is such a difficult period for parents, your child is no longer a child and not yet an adult. Teenagers develops their own likes and dislikes, are usually very particular about what is cool and are on the verge of creating their own identity. It so happens that their bedroom becomes their sanctuary where they contemplate and spend a lot of time, and bedroom design for teenager becomes an important aspect. The bedroom needs to be positive, motivating and calms your teenager, here are a few bedroom ideas for teenagers which also include some cool wall décor ideas for teenagers –
For Boys
Teenage is an age when music starts to take centre stage and teenagers use it to express themselves. You can get a "Music Abstract" wall paper for a teenage boy, the doodles add to the cool quotient of bedroom design for teenagers.

Another bedroom idea for teenagers is to have a musical instrument like a guitar nailed to the wall or placed near the wall. Putting up framed photographs of legendary musicians is a music wall decor idea for teenagers that never go out of fashion.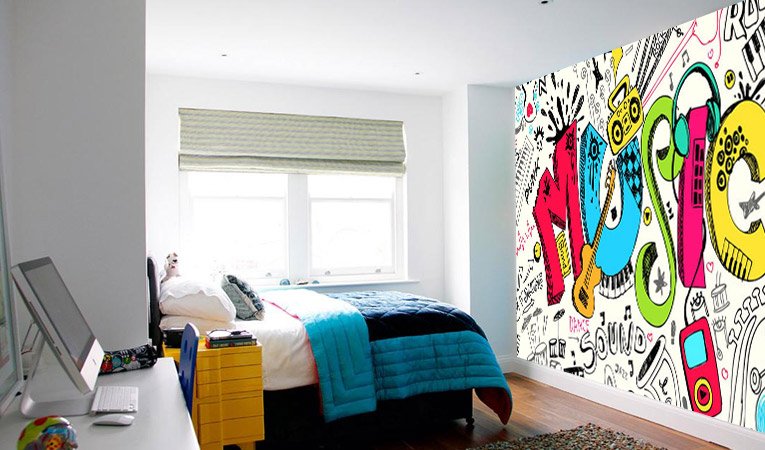 Sports capture the imagination of most young boys and it is best to include this as a theme for bedroom design for teenagers. You can try the really cool "Packed Stadium" wall paper which is a fantastic wall décor idea for teenagers. The magnificence of a packed stadium will motivate them and push them to perform.

Creating a storage space for all sports equipment so that they can be seen is a good bedroom idea for teenagers, this will prompt them to perform better and remind them to be active.
For Girls
Art is a popular way of expressing and teenage girls love to experiment with arts and crafts. You can bring in a dash of color in a bedroom design for a teenage girl with the Painted Lines wallpaper. The vibrant colors will motivate her to express herself through art and is the perfect wall decor idea for teenagers.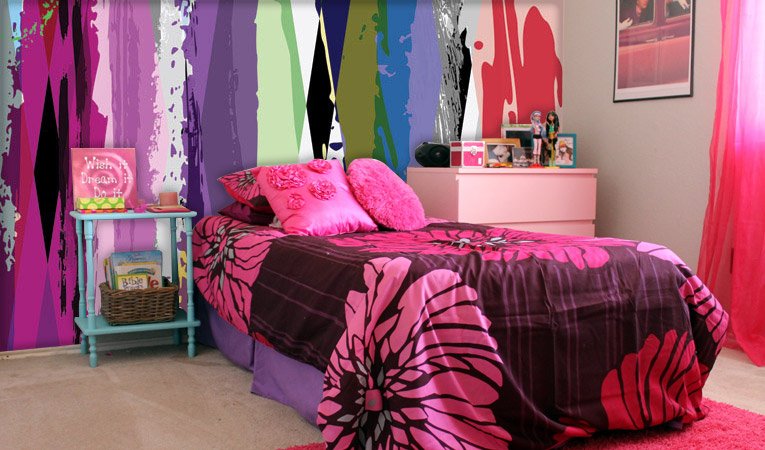 Colorful cushions are a great bedroom idea for teenage girls; they could be traditional or use graphics instead of plain cushions, the more the merrier!

It will be very difficult to find girls who don't love flowers; while they may not enjoy getting flowers certainly they appreciate their beauty. A floral theme is an apt bedroom design for teenage girls and you can get the "Pink Soft Flowers" wallpaper that will complement the flower theme and form the perfect backdrop as a wall décor idea for teenagers.
Fairy lights or rice lights are most sought accessories by girls and they are quite convenient to use. It is a good bedroom idea for teenagers to string these lights across the room and even put up photographs along the length of the wire.
For any query, please call us on +91-98110-31749 or e-mail info@printawallpaper.com
Order a Wallpaper