Hospitals scare the wits out of people, except for one happy incident of baby delivery, everybody hates going to the hospital or clinic! Yet, most people have to visit the hospital some time or the other, either for themselves or friends and families, in such a situation it is the hospital's responsibility to create a safe and relaxing atmosphere for patients and visitors. You can implement some of these design ideas for hospitals & clinics for an ideal atmosphere –
Waiting room design ideas for hospital
Waiting rooms are the first place where patients and visitors wait alike for their turn to see the doctor. Cleanliness and lighting is never an issue at hospitals however the colors need to be paid attention to. Whites and bright colors suit the design ideas for hospitals as they create a bright environment. You can use wallpaper décor to enhance this positive design ideas for hospitals and clinics by using relaxing beach, flowers or these nature images.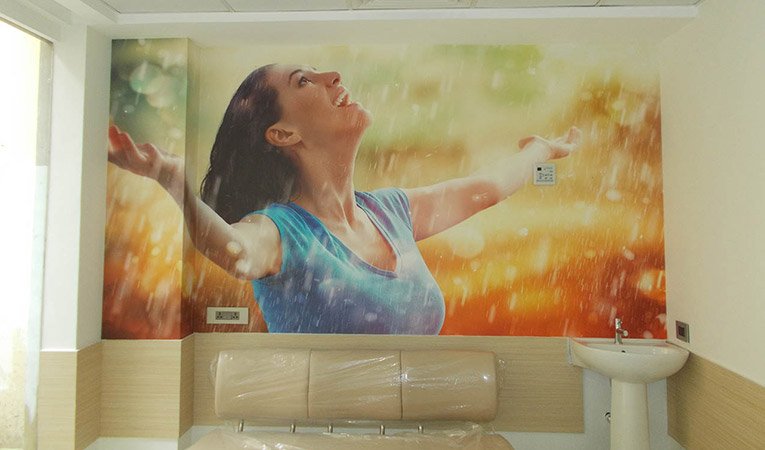 Lobby and corridor design ideas for hospital
Most clinics and hospitals have long corridors or lobbies from where they pass through the entire day going from rooms to other areas. These areas need to be clear and clean; you can break the monotony of solid walls by using texture wallpapers. These wallpapers are usually in natural colors and textures like stone, wood etc which will go well with the hygienic atmosphere of the hospital and clinic design.
Patient room design ideas for hospital
In patient rooms are where patients stay overnight or a few days usually before and after their hospital procedures. They are often in pain and need of a calm atmosphere to recuperate and regain their health. Several studies have shown that a positive atmosphere helps patients regain health faster. Pretty wallpaper is the easiest way to create a motivating environment in the hospital room, you can select this cheerful rainbow on field image or these demure floral images to ensure a positive hospital design idea.
Children's ward design ideas for hospital
Children's wards need to be made suitable for young children; they already might be missing out on school and fun time with friends and it's a great design idea for hospitals & clinics to make it a happy place for children. Most children love certain themes irrespective of their age like animals, smiley faces and cartoons. Apart from these, you can also keep some toys which are safe without any sharp edges, it is not a good idea to have soft toys as they cannot be easily disinfected.
Doctor's cabins design ideas for hospital
Doctor's spend a majority of their work time in their cabins where they check on their patients and the room needs to be lively to ensure they are productive and alert. Design ideas for hospitals & clinics need to include these basic necessities for doctors. Since they are of a scientific bent they may love these geometric ideas or abstract ideas which can be used as wallpapers in their cabins.
Hospital cafeteria design ideas for hospitals
Patients complain about eating hospital food because it is boring; however hospitals take great care to provide hygienic and nutritious food to their patients and visitors. You can change this perception by using fresh colors as a design idea for hospital & clinic cafeteria so that they give a fresh and appetizing atmosphere. It is said people eat with their eyes first and mouth later, so it's important to create a great design with these citrusy wallpapers.