The green of a leaf, the yellow of the sun, the red of the rose and the blue of the sky, and the multi colours of the rainbow, they all bring a smile on your face don't they? That's what colours do to life! This is why it's time to bring some positive energy into your life and home with these colourful home decor trends in 2017! Follow this home decor 2017 trend forecast and find joy and happiness in your home, all of it with just a splash of colour –
Navy Blue Kitchen
Navy Blue is touted as the new black this year and Navy Blue Kitchen Cabinets are probably one of the hottest Home Decor Trends in 2017. Cabinets can be done in acrylic material or even laminate can be used to bring out this pop of colour in your kitchen. It works best with white as the complementary shade.
Greenery Indoors
'Greenery' is officially the colour of 2017 and obviously the 2017 trend forecast is that it's going to be most wanted. You can bring in a dash of greenery in your home with lovely indoor plants; you can even use vertical planters.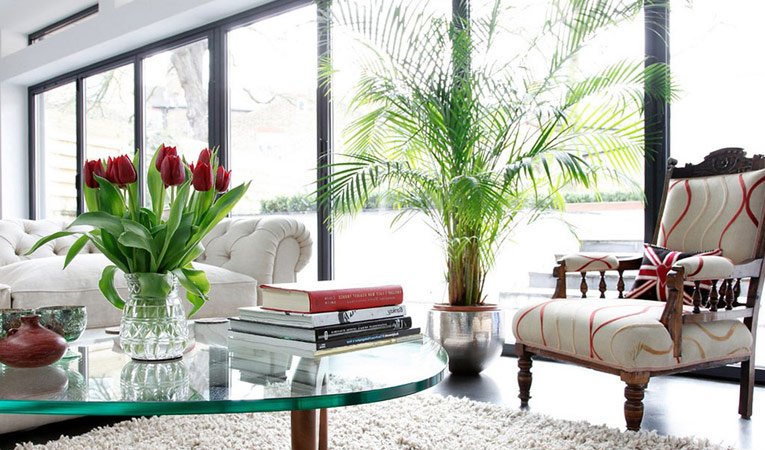 Courtesy: homedecor.guide
Shiny Marble on walls
The marble texture is trending in home décor trends and the simplest way you can incorporate this silvery grey texture in your home is with wallpaper. Easy to apply, this will instantly transform your room with elegance.
Coloured Lamps
The best way to incorporate colours in your home is to get multicolour lampshades or overhead lamps, along with colours they will also light up the home and create a vibrant atmosphere.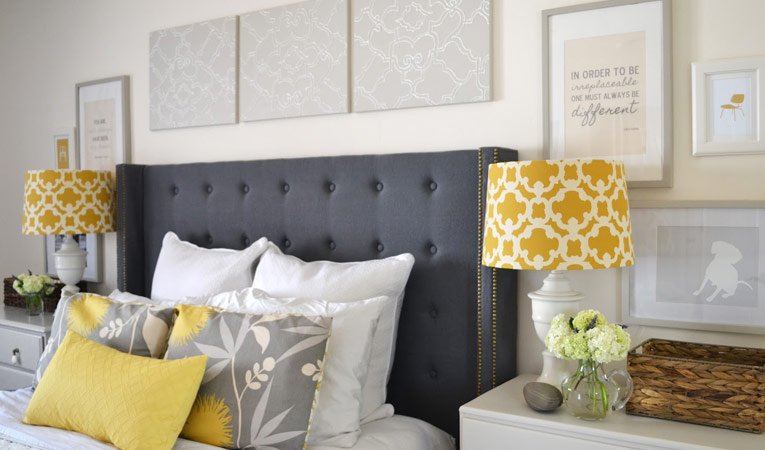 Courtesy: danielleoakeyinteriors.com
Orange Floor Rugs
Orange is a vivacious colour and known to infuse energy, this is definitely a colour you must have in your living room. Orange floor rugs fit in very well with the Home Decor Trends in 2017 and will give your home a fashionable look.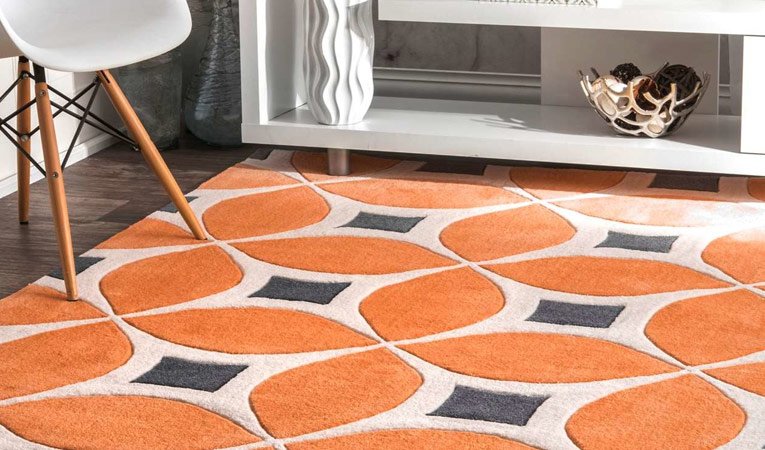 Courtesy: gsaappliance.com
Wooden Tiles
Wooden textures have made a big comeback according to the 2017 trend forecast and you can incorporate it into your colourful home by using these coloured wooden planks wallpaper in your children's bedroom. It will be perfect to hang their photographs on!
Painted Baskets
Wicker is an evergreen home decor trend but painted wicker baskets are huge in Home Decor Trends in 2017! You can even make these colourful baskets as a DIY project with your kid in the summer vacation.
Courtesy: pinterest.com
Mixed Pattern Bedding
Mixed Patterns is one of the 2017 trend forecast and while interior decorators are using it everywhere one of the simplest ways to incorporate this colourful trend is to use it in bed sheets. You can find beautiful and colourful bed sheets and covers anywhere!
Courtesy: pinterest.com
Velvet Arm Chair
A velvet arm chair is THE style statement for your luxury home. If your home is styled in a luxury theme then any bright velvet chair will increase the style quotient. Use a green or pink velvet chair for maximum effect.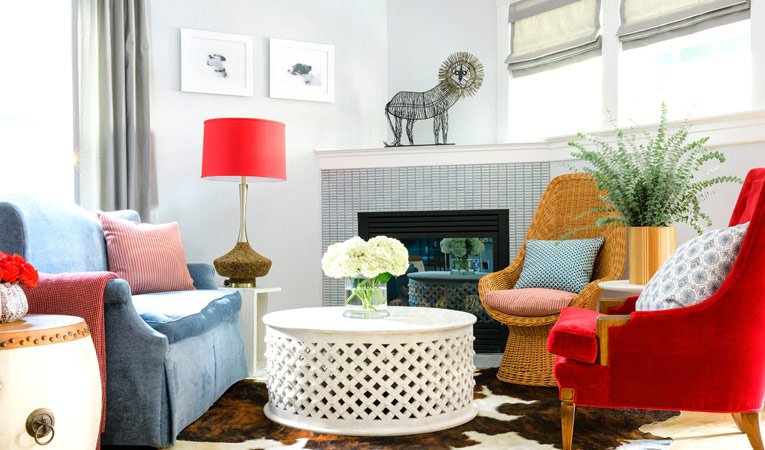 Courtesy: idolza.com
Brighten up the Time
A clock is usually the centerpiece of a wall, driving attention to itself due to its utility. Use this to its maximum and place a huge clock in the room. White and Black Clocks are especially trending in Home Decor Trends in 2017.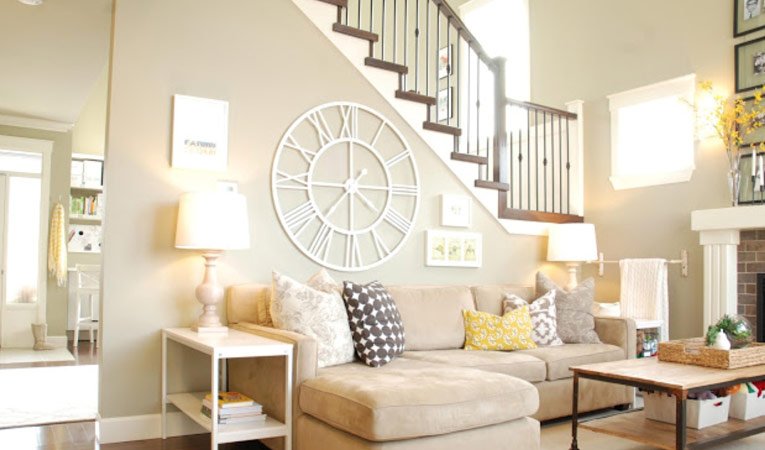 Courtesy: otisundersky.com
Abstract Art
Just like clocks, art pieces are a show stopper, which is why abstract art is one of the 2017 trend forecast by interior decorators worldwide. Use bright canvas prints or paintings to liven up the space, however make sure the background is a neutral or subtle colour.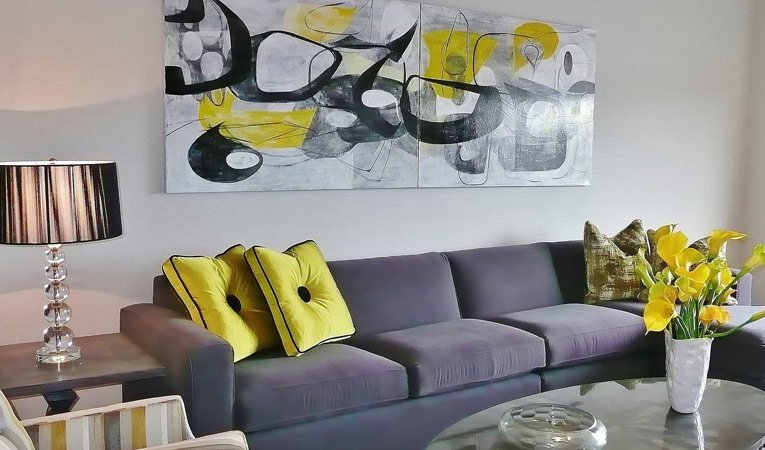 Courtesy: gotohomerepair.com
Flowers & Vases
A burst of colour in every nook and corner will do wonders to the energy in the home even in the most simplest of homes. You can accomplish this by including bright and colourful flower vases in your home, to notch it up have live flowers.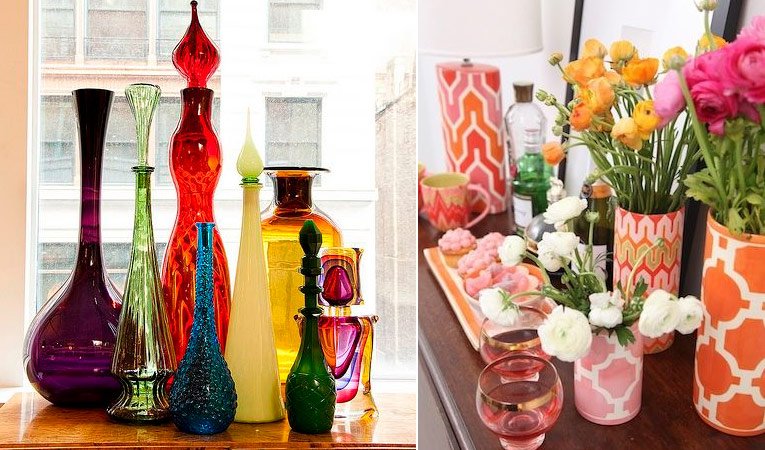 Courtesy: pinterest.com
Colourful Cutlery
Kitchen Décor can define your home too because both the residents as well guests enjoy their time around meals, and this is the best place to show off your trendy home decor 2017!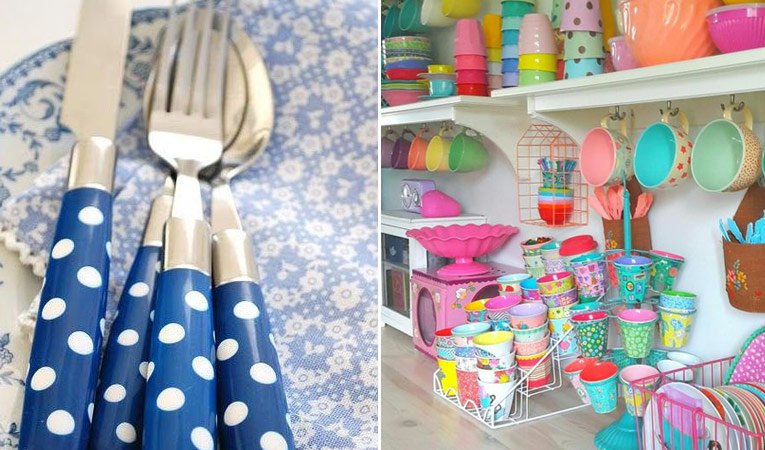 Courtesy: pinterest.com
Aztec Designs
A continuing trend from previous years which finds a place even in Home Decor Trends in 2017 is Aztec Designs! You can use Aztec designs in anything from cutlery to upholstery, even rugs and mats.
Courtesy: cpcreative.co.uk
Do you have any colourful home decor items in your home? Do share the photographs with us!