Wallpapers or wall coverings are fast becoming a popular way to decorate the walls of living and work spaces in India. While people might remember the quaint delicate wallpaper peeling off the walls in their grandparent's homes, today the wallpaper technology has progressed immensely leading to a variety of materials being used in the most fantastic ways. If you are thinking of getting wallpaper for walls décor at your home, then these are tips that should help you with making the decision and understand the wallpaper price in India.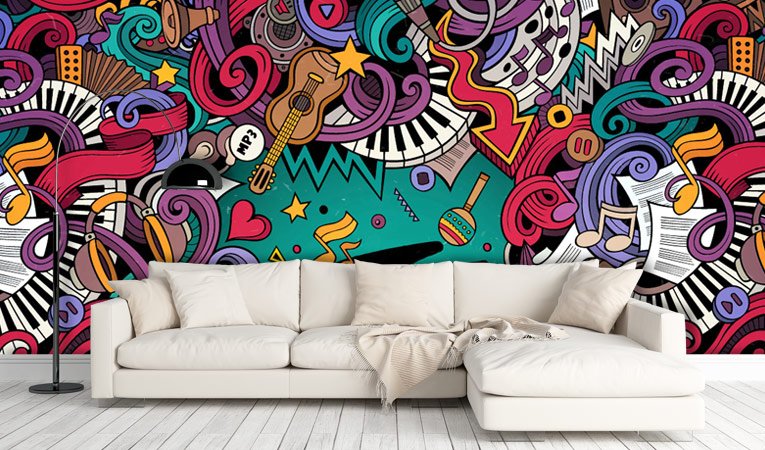 Check the material of wallpaper – There is a variety of wallpaper material in the market – Vinyl, Non-woven paper, Matt Finished paper, Glass cloth or fabric, canvas textured paper, glitter textured paper and many more. When you buy wallpaper online ensure that you read what material is offered.
Check features of the wallpaper – The wallpaper price in India varies a lot and this is because of the various features of the wallpaper. For example, Matt Finished wallpaper is water and fire resistant making it suitable for homes and creating a safe environment.
Check the application method and cost – If you intend to use wallpaper for wall decor, you need to decide on how much effort you want to put in on application of the wallpaper.

Matt finished wallpaper is easily installed, you just need to apply water and stick it. While the canvas textured wallpaper and glitter textured wallpaper is heavier and needs adhesive to stick to the walls.
Very often the cost of application is not included in the wallpaper price in India and when you buy wallpaper online, check who is going to the application and how much it costs. Print A Wallpaper has its own installation network in metro cities and partners who come in to put up the wallpaper for home's in India.

Check wastage on the wallpaper – Generally in India wallpaper for walls décor is sold in rolls and you end up wasting a lot of it. However, when you buy wallpaper online from Print A Wallpaper you get their unique offering of buying wallpaper according to the size of your room based on the square footage, this way you will never have to waste wallpaper again!
Check customization options – Many wallpaper sellers offer a preset number of designs as they import the wallpaper, however if you are looking for unique wallpapers for walls décor then you should choose customizable wallpapers that suit your home décor instead of vice versa!
All these above tips are also the contributors for variance of wallpaper price in India. Keep these tips handy while buying wallpaper online and ensure you get the best value.
To place an order please call us on +91-98110-31749 or e-mail info@printawallpaper.com