Parents are always on the lookout for the best play school for their children and they pay attention to the teachers and curriculum as well as the physical infrastructure of the pre-school. The play school has to look inviting and attractive so the children feel comfortable about spending time there. If you are wondering how to decorate your play school, here are a few play school decor ideas you should keep in mind  –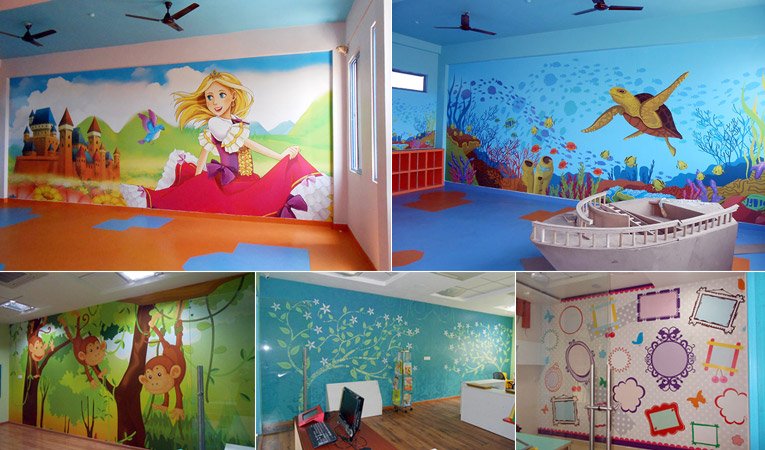 Light up your Play School Decor
One of the most important components of Pre-School decor is lighting. Large well lit rooms create a sense of openness and make the child feel comfortable. If there is not much of natural lighting, make sure that there is enough artificial lighting and ensure there are no dark corners. You can emphasize the light by using bright wallpaper décor as well as using string lights or special lamps.
Mix it up with theme rooms for your play school decor
If you have separate classrooms for each class that is great, even otherwise if you have a big hall or big hall and few small rooms you can designate each room with a special pre-school theme decor. Variety excites children especially younger children who are learning and speaking. You can notch up the fun element by having an animal theme room, a flowers theme area, a cartoon area, a dinosaur area and so on. An easy to implement play school décor idea is to use wallpapers to create these themes as they cover the entire wall.
Bring a sense of openness in your play school decor
Children love to run and play games; this should be kept in mind while designing your play school décor. You can make sure that the entire floor is padded with soft material so that they can run without worrying about hurting themselves. Also, arrange the furniture in such a way that they don't become a hurdle to the children running around. You can make sure there are soft toys and big bean bags so that they can sit down and relax whenever they feel tired of playing or standing.
Learning is key in your pre-school decor
Everything is a pre-school décor should have some purpose related to learning, the equipments, the play items even the play school wall décor can have an impact in a child's learning. Wallpapers which show animals or teach letters can be put up so that children can be curious and ask questions. Children have a habit of continuously reading the same thing and this reinforcement helps in faster learning.
Bring the fun in your pre-school decor
Fun and quirky items add to the décor ideas for preschool, in fact they increase the fun element of the pre-school. Funky toys, creative tools, they all help children practice and feel new materials and increase their creativity. It is a good idea to ensure that even the walls have fun items like smiley wallpapers or cartoon wallpapers so that a friendly and happy atmosphere is created.
The idea is to create a fun and happy environment for the children to grow up and spend time in, which is why pre-school décor needs to be given special attention to! You can view some amazing pre-school décor ideas here https://printawallpaper.com/our-work/schools
Do you have any fun ideas that you have incorporated at your pre-school? Or as a parent have you felt pre-school miss out on something while decorating? Tell us in comments below!
Order a Wallpaper