Nature makes life beautiful, from the alluring flora of pretty flowers and majestic trees to the variety of fauna. A walk in the woods or the sight of a waterfall fills the heart with glee and makes one feel delightful. Why not bring this delight in your home or office with nature inspired wall decor? With the availability of different materials now you can create beautiful nature inspired wall décor and transform your home. Usually walls are not completely utilized as a part of décor but they are like an empty canvas, you can fill them up with your ideas and create magic. You can have stunning interiors starting with these nature inspired wall designs –
Sleep in the lap of nature – Ever been on a holiday to a hill station or nature park, where you slept looking out to the stars and woke up to a mesmerizing view? You can get that view to your bedroom with this beautiful waterfall in slow motion nature inspired wall paper. The falling water can soothe you and waking up to the view is bound to start a great day. That is the beauty of nature inspired décor, it will involve aspects of nature that are motivating and refreshing.
Nature inspired wall décor can also include elements of nature like a bamboo frame or wooden artifacts like an old wall clock. You can even let a money plant creep along the walls.

Nature is elegance – Nature is pure art, the design on the leaves, the intricate flowers or the pretty patterns on a butterfly, they are all just stunning. Bring this artist in your living room with this "Park Trees" wall paper. This nature inspired wall décor is elegant and artistic to suit your luxury living room. Nature inspired décor can be used in living room to make it inviting for guests and to make them feel comfortable. Apart from that, nature inspired walls with sceneries and spectacular landscapes will create awe inspiring interiors for your home.
Inspire your child – Children rarely go out nowadays, they just go from their AC homes to the AC bus to AC schools, the only interaction they have with nature is on the rare school or family trips. In such a scenario the best way to bring them closer to nature is to have nature inspired décor for their room. A fun way to do that is to use the "Rays through Clouds" nature inspired wall paper that the children will love!
You can also get them to collect leaves and create a framed collage to hang it on their wall which will add to the nature inspired wall décor and along the way teach them about leaves!
Work in nature – The physical environs make an impact on productivity, a calm and cheerful place will motivate you to study or work and nature is the best environ to do so. You can bring in this positivity in your home study or office with this "Forest Pathway" nature inspired wall paper. It gives you a feeling of working under the trees and becomes the perfect nature inspired décor.
You can also put up calendar or schedules up on the wall, these could be with nature photographs, you can also have natural material handicrafts that will all add to your nature inspired wall décor.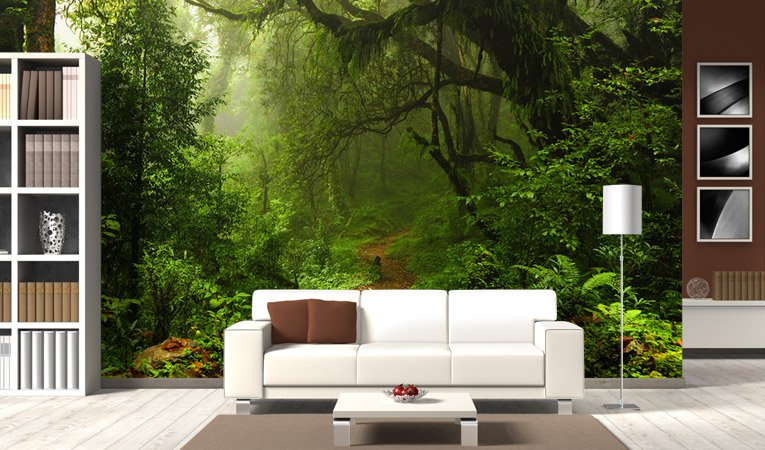 For any query, please call us on +91-98110-31749 or e-mail info@printawallpaper.com
Order a Wallpaper