Green woods, soaring mountains, colourful birds and splashing waterfalls are the things that come to your mind when you think of nature. It has the power to refresh no matter how tired or stressed out you are. That is why adventure seekers visit natural habitats to detox and rejuvenate themselves. Mother nature nurtures us in more ways than one, then why not have a small part of this thriving nature in your homes and offices? Nature inspired wallpapers ideas are the hot trend this year in home decor, dominating most stylish homes and offices. Have a part of nature in your home that not only adds volumes of style to your decor but also transports you to another world. Stunning landscapes, beautiful animals, majestic waterfalls all add up to nature inspired ideas, pick your favorite from below and transform your walls.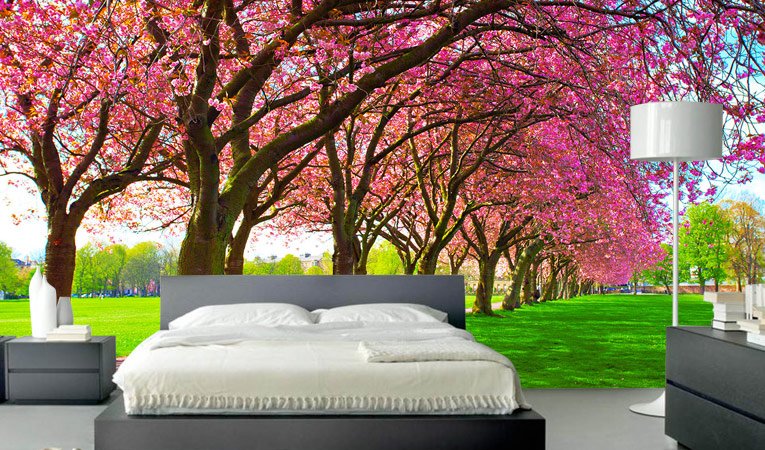 Nature Park Wallpaper: If you are a fan of walking around beautiful parks and would like to include it in your bedroom then go for park trees wallpaper. With its beautiful trees and flowers it will aptly describe your harmony loving personality. A Nature park wallpaper will make sure you have a serene environment and a stunning backdrop.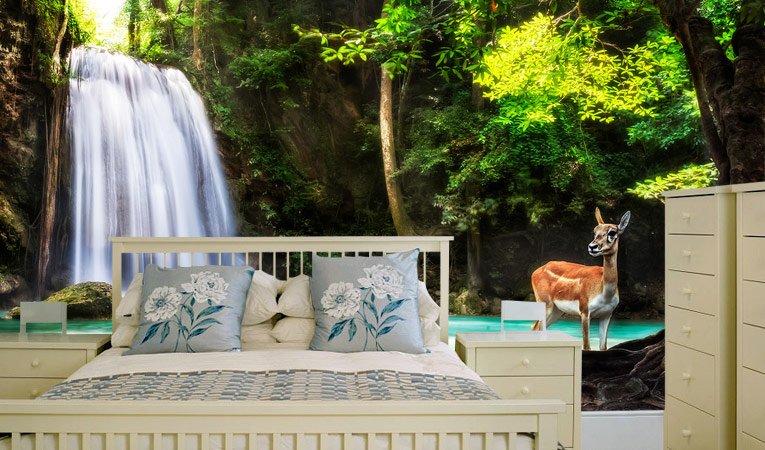 Waterfall Wallpaper: Is the sound of a waterfall music to your ears? Then this waterfall wallpaper will ensure that music resonates within you. Waterfalls have a very calming effect and if you are a calm personality then this nature wallpaper is made just for you. Install it in your bedroom to have a peaceful sleep.
Panoramic Mountains wallpaper: Soaring Mountains that cover a beautiful landscape are an inspiration to all of us. For an adventurous person who likes trekking or hiking, this panoramic nature wallpaper will make sure your room gets an instant uplift. Put it in your living room for a breathtaking view.

Oceans Wallpaper: A beautiful sunset by the beach will transport you to a dreamland. Calm ocean, splashing waves, green palm trees and the beautiful blue sky can be a treat to watch every day! Suited for a personality looking for harmony, these are bound to make your day.
Plants and Animals: Beautiful plants and animals wallpapers can not only add beauty to the room but it can also prove to be informative, making it great for a kid's room. Having different animals such as Lions, Elephants, Giraffes and Zebras on the walls will make the kid's room super fun and also teach them a lot about wildlife.
Hope you liked our nature inspired wallpaper ideas? Share yours by commenting below!
To place an order please call us on +919811031749 or e-mail info@printawallpaper.com