Kids are so full of life and energy that one must ensure to use the most inspiring ideas for children's room décor. Their enthusiasm, love for learning and fun must be all taken care of while planning for their room which will suit their personality. We have listed 10 inspiring kids room interior ideas for you –
Bunk Beds – If you have more than one kid then bunk beds are what you are looking for as inspiring ideas for kids room. Today you will find bunk beds of all shapes and sizes, but choose comfortable big ones in which your kids can grow into.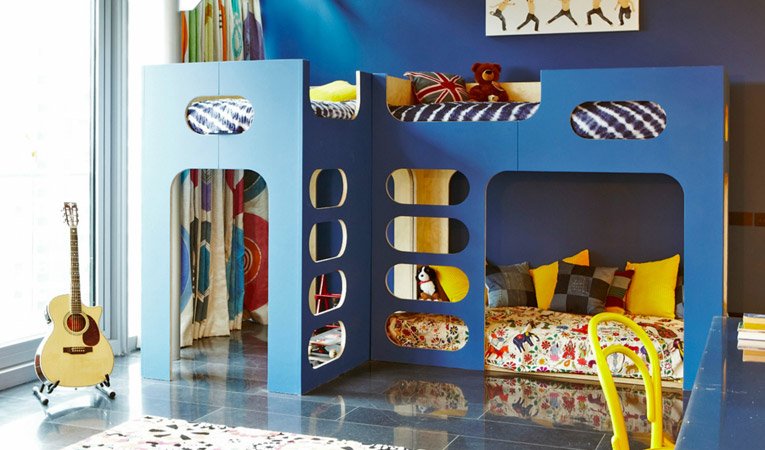 Courtesy: pinterest.com
Alphabet – Learning is a lifelong process but the first steps are made during the young age when kids learn the alphabet. During this important phase it is necessary to support them and alphabet wallpapers are great kids bedroom ideas on budget that you can use to teach them!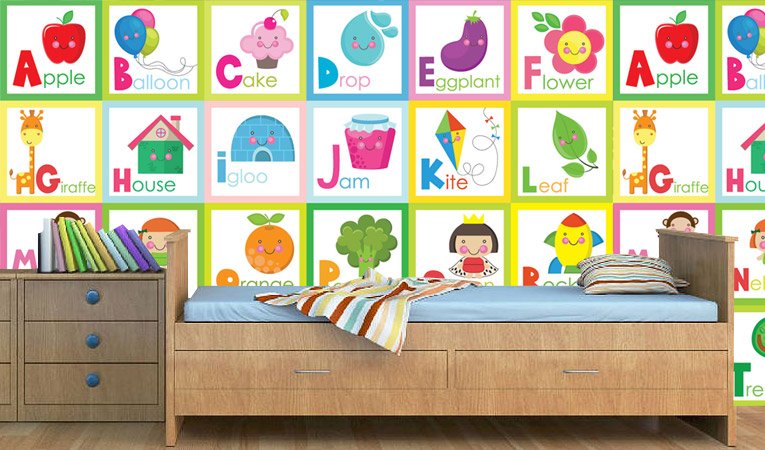 Pin Up Board – Having a Pin Up Board or a Chalk board is one of the best children's room interior ideas that will contribute to a child's learning skills too! The board can have your kid's art work, important assignment deadlines and photographs with friends. This can be appropriate for all age groups.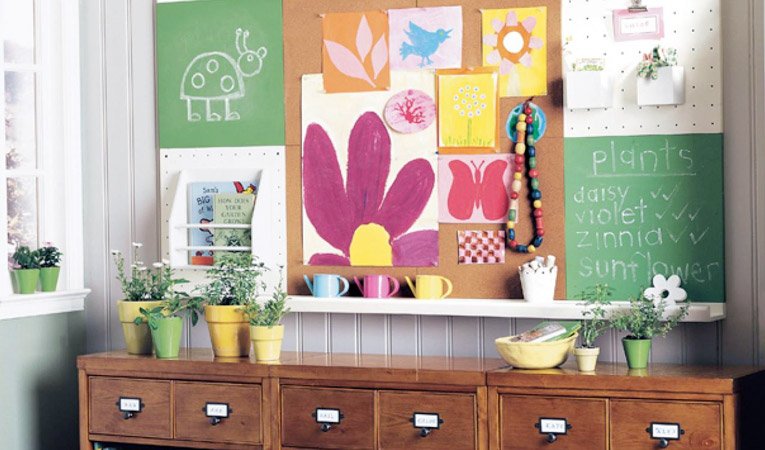 Courtesy: hgtv.com
Animal theme – Every child goes through a phase where they are best friends with all the animals, usually around the time you take them to a zoo. One of the best kids room design ideas is to use animal wallpapers, these could be cartoon ones to appeal to young children and toddlers.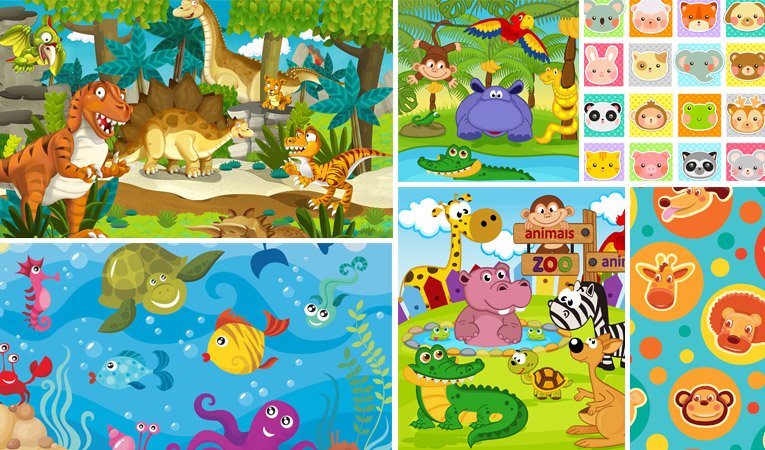 Fun Storage Space – Habits develop during childhood and as parents your quest is to introduce good habits in kids. One of the best kids bedrooms ideas on a budget that you can have in your home in storage boxes for their toys. It can be even simple boxes or elaborate cupboards but it will develop the habit of cleaning on their own.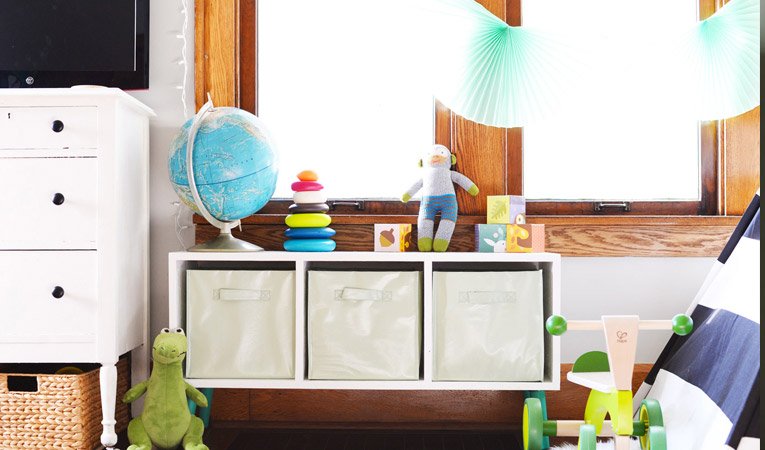 Courtesy: homedit.com
Inspire dreams – One of the duties as a parent is to inspire your child to dream, to aspire to achieve dreams. Getting a space theme is one of the inspiring ideas for kids room that you need to do, and you can even do it simply by having a space wallpaper!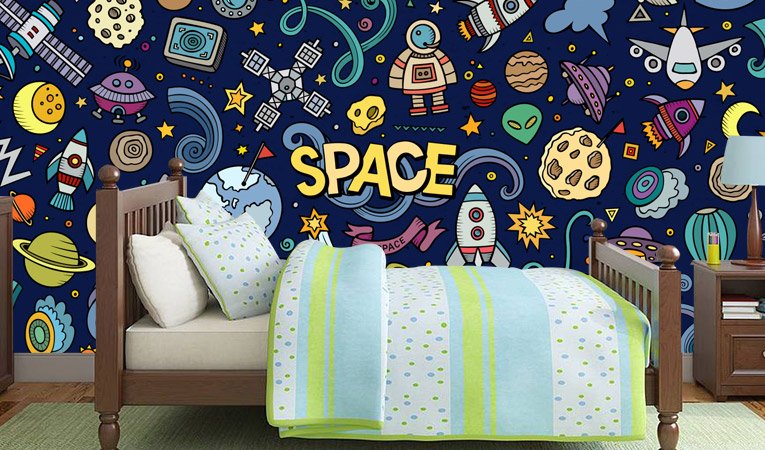 Vertical Bookshelf – A vertical bookshelf is one of those inspiring ideas for kids room which will make you wonder why you don't have one yet! The vertical bookshelf can have age appropriate books that your child can reach out to as he grows older and taller. Creating a comfortable nook for reading will also help raise readers.
Courtesy: pinterest.com
Activity themes – Children develop many interests over the years but some of them stick along, and you should help nurture these interests by using activity based children's room interior ideas. If they like music you can get music themed bedding, wallpapers or posters that will continuously inspire your child.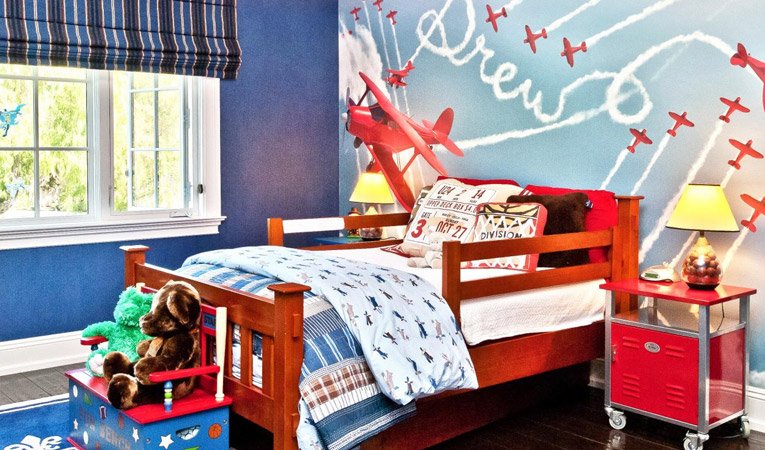 Courtesy: hgtv.com
Colourful nursery – One might imagine that babies don't understand much, but they do and it is must that a pleasing and colourful atmosphere is created to excite their senses. If you are looking for inspiring ideas for kids room when they are babies then make sure you choose a theme first. An animal theme works best for all kids; you can choose nice wallpaper and also colourful mobiles that will entertain the baby as it sleeps in the crib.
Courtesy: dulux.co.uk
Cartoons – No matter what a child's personality is they love cartoons. Make sure you utilize cartoons in designing their bedrooms and if you are short on time and budget, then the best way is to use a cartoon wallpaper which will completely change the look of the bedroom.
Courtesy: stylemotivation.com
Have you spent time in decorating your kid's bedroom? Send us some photographs and we will publish them to inspire others!