Modern Interiors are characterized by simple and functional décor that has no extra fuss involved in it. Due to this, its popularity is surging these days as more and more people choose modern décor over traditional décor for their homes and offices. Modern interiors are not very different from contemporary interiors and they are often married together for great home décor. However the former consists of clean, straight lines using minimalistic yet formal décor and the latter consists of curves and swift lines that creates a casual atmosphere. Both styles are favoured by many modern homes. There are numerous reasons for choosing modern interiors over traditional interiors for your home or office.  In this blog we will talk about the top reasons to pick modern interior designs for home and offices: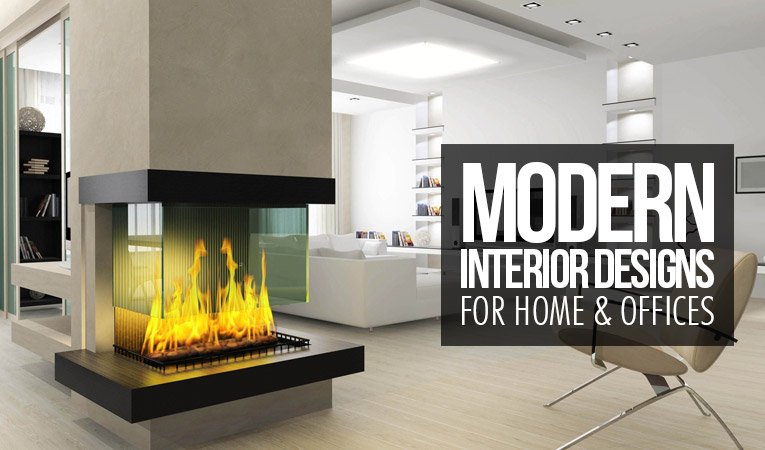 Courtesy: pubrnrheart.com
Spacious: Modern interior designs include minimalistic furniture and décor. The area will end up being more spacious and one feels less cramped up. Due to this, a lot of people are opting for modern décor for their homes as well as offices.
Flexibility: Since there is a lot of space in the floor plan, it offers a lot of flexibility to move around furniture, storage etc. In case you get bored of the décor in the future you can always adjust the space and create a new look all together.
Focus on Function: Modern interior designs focus on functionality. Whether it is office or home décor, one expects to get something extra apart from aesthetics and modern designs offer the same. Most of the modern designs not only add a touch of vibrancy to the décor but also are multifunctional. For example a corner sofa that can double up as a sofa bed is a staple these days at many modern homes. Hidden cabinets to store files and other documents are a favourite in offices.
Clutter free: Owning to the minimalistic nature of modern home décor, it gets rid of the clutter in the home. That means no excessive use of cushions, pottery, vases, rugs or blankets. Books and other necessary items are kept in cabinets in hidden storage or shelves. This creates a clean and clutter free look which is liked by many organizations and home owners.
Natural Light: Modern Interior designs incorporates the use of glass in a lot of its interiors. Hence that ends up allowing a lot of natural light in the area creating a bright and positive environment.
Unique Style: Modern interiors often end up being beautifully unique in its quest to become unconventional. Hence it is a perfect choice if you want to stand out in the crowd and create your signature style.
Accentuates Colour: Although modern interior design consists of white, blue, black and grey colour tones, it is often paired up with bold colour accents and abstract art. The settlement of colours on the backdrop of neutral shades accentuates bold accents beautifully. With the help of modern décor ideas you can create a designer home or office without compromising on things such as space and comfort.
We hope we have been able to convince you to use modern interior designs in your home or office décor. Please let us know by commenting below.
To place an custom wallpaper order please call us on +919811031749 or e-mail info@printawallpaper.com